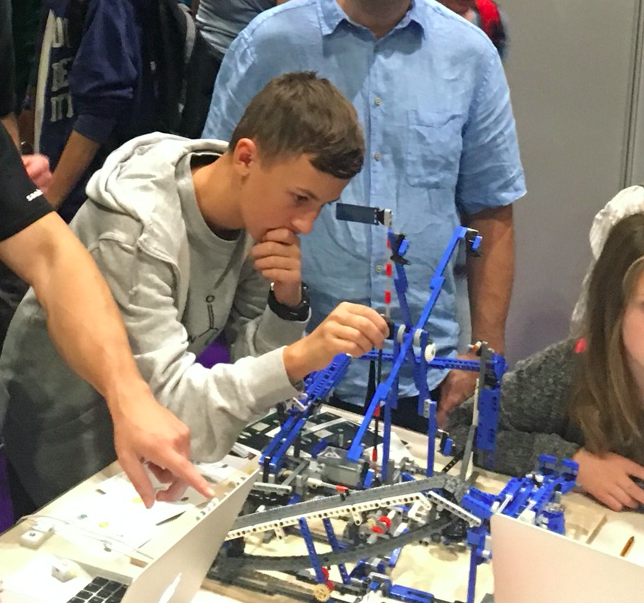 Hands on Learning was never so much fun and exciting for Students in higher grades, who go on to become scientists, engineers, designers, teachers, etc. Our LEGO® GBCs help you bring the science and fun of Robotics and Mechanisms in to the classroom, and help convert your classroom into a hands-on Robotics Laboratory.
STEAM is an educational approach to learning that uses Science, Technology, Engineering, the Arts and Mathematics as access points for guiding student inquiry, dialogue, and critical thinking. The end results are students who take thoughtful risks, engage in experiential learning, persist in problem-solving, embrace collaboration, and work through the creative process. These are the innovators, educators, leaders, and learners of the 21st century!
Inspire and enthusiast your students by building mechanical contraptions together, using clear logic and physics to solve interesting problems. With our wide variety of GBCs and different levels of difficulty there's always a GBC that is perfect for your student. When done and satisfied seeing the GBC in action you can break it down and build the other version we created.
The students can build our wide range of GBCs to create different behaviors for the balls. This serves as a great tool to teach STEAM concepts while fostering key skills such as logic, problem solving, team work, and leadership. Our LEGO GBCs allow students to explore their talents and to work hands-on to master STEAM subjects through practical experience so they can build experience to contribute to a future better world.
For more information, please get in touch with us at support@pv-productions.com
Learn by play. Play by building!
LEGO camps
Do you have a LEGO camp and you want something exclusive only for members of your LEGO camp?
We design and create unique LEGO Great Ball Contraptions (GBCs) which are a great feat for the eye. The big win is that it is really easy and cheap to get the required LEGO parts as we only create LEGO GBCs from existing LEGO Sets. See here the LEGO GBCs we already created: http://pv-productions.com/lego/
Next to the Exclusive Full HD PDF Building Instructions you also get digital promotion material to spread the word along your audience. You get HQ videos, pictures, renderings and more. Lot's of greatness to work with.
Companies
You want to see a company's (your company) product combined with LEGO mechanics and want it showing in your office?
Get in touch with us today to see what we can do for you.
info@pv-productions.com