Counting the balls that passed by in your LEGO GBC can be very usefull and interesting. So if you also want to count the amount of balls that have passed by in your gbc you can use, of course, a LEGO Mindstorms or you can use your Android smartphone. A couple of easy and efficient ways are explained on this page.
1. Using LEGO Mindstorms NXT & EV3
First of all we will explain the counting by using the LEGO Mindstorms. In particularly the LEGO Mindstorms NXT and EV3 but it actually doesn't matter. To begin you only need the LEGO Lightsensor and the LEGO Mindstorms brick. Below you can see approximately my program that we have used in LEGO GBC 4, 5, 7 and 8 for the NXT. The program shows the basics of counting balls but you can of course expand it yourself. The EV3 program is made by Heino Teucher.
Download here the LEGO NXT and EV3 program:
LEGO GBC counter NXT EV3 programs


2. Using Android smartphone
The second way to count balls is by using your Android smartphone. User and creator of Youtubechannel LegoGBC has build an nicely designed Android app which does exactly that. The app uses the proximity sensor of your smartphone to detect proximity change. So make sure your smartphone has this feature. If you have installed and started the program the counting works automatically. The app then adds one to the ball counter and waits 700ms before measuring again. The app displays, of course, the amount of balls that have passed by, the BPS(Ball Per Second) and a timer. To reset the counter, simply flip your device to the side one time.
You can rebuild his GBC counter using his LDD file (building instructions) and open it with "Lego Digital Designer"(download here). In the PDF tutorial below you can find more information.
The easiest way to install the app on your smartphone is to visit this page mobile and to download it from there. If you don't have Android 4.0 or higher you could at least try if it will install and run.
Use "ES File explorer" to open it. Otherwise it will not install.
Tip: Scan this QR-code with your smartphone to visit this page mobile: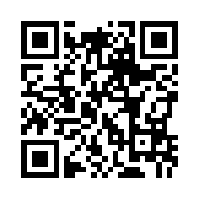 Download here the LEGO Android app:
3. Using SAM Labs electronics
We created an ball sorting machine using SAM Labs electronics and our LEGO GBC 10. It uses an light sensor and a LED. Of course when you can detect colors you can also count them using the free software they provide. Check out our article here.
4. Using a mechanical counter module
Nico from Nico71's Lego Technic Creations has made a nice mechanical GBC counter module. Although it doesn't count the average amount of balls that passed by per second, it is quite nicer to look.