1. What's a LEGO PBC?
A new kind of concept, different then the all familiar LEGO GBC, is the LEGO PBC which stands for PinBall Contraption. The PBC should not be confused with a pinballmachine, though. The main idea is to move the little plastic LEGO balls with al kind of extra paths. A big difference is that there are a lot more balls in the game. That does not only makes it more fun to watch, it also ensures that all paths are filled with balls. For reference you can use approximately 1 ball/sec. Watch the video above to understand the concept of a LEGO PBC.
2. Building with LEGO and littleBits: tips and tricks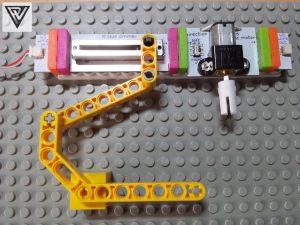 I have set up a list of some useful tips and tricks for building with LEGO and littleBits: Click here for more information.
3. Info
I present: LEGO PBC 1 which stands for LEGO PinBall Contraption.
I used over 4000 LEGO pieces, a LEGO NXT, 6 servo's: 3 LEGO SERVO-motors and 3 littleBits SERVO-motors, 1 littleBits DC-motor, a LEGO XL motor, 2 LEGO Medium motors and one LEGO L motor. By smart gearing and combining of modules-axles I could keep this number of motors down. Otherwise it would be much more.
The intelligence and heart of this machine is hidden in 2 littleBits-Arduinos in combination with the LEGO NXT. They control the displayes, the Servo's/motors, MP3-Player, buzzer, lights and keep track of points, balls and coins. I also used 4 LDRs(Light Dependent Resistors), some touch sensors and a IR sensor.
There is also a cloudmodule included so that you can control the PBC and see the current score on it. But you can also control the PBC with a mechanical switch and see the score on the scoreboard.
The PinBallContraption uses almost 100 bits and exists over more than 20 meter length of wire.
It was a really fun and challenging project where only creativity was the limit.
Visit also my projectpage on the littleBits site.
4. Some reviews
Atmel.com (Fabricator of the microcontrollers where the LEGO NXT  is based on)
A Maker by the name of Philip Verbeek has debuted quite the Lego pinball contraption that will surely make the geekiest of dreams come true. In order to bring the idea to life, the machine is equipped with a Mindstorms NXT (based on the Atmel AT91SAM7S256 and ATmega48), a tandem of Arduino boards, and a handful of littleBits modules…
Click here to read the full article.

Geek.com
We love over-the-top Lego creations. Throw in some Technic parts and make things move, and that's even better. Plug in NXT, Arduino, a handful of LittleBits, and toss in a pinball theme for good measure, and you've got something really special. Verbeek's Contraptions are acrylonitrile butadiene styrene kinetic sculptures…
Click here to read the full article.
5. Radioitem LIVE (Dutch!)
L1 is a Dutch radiostation and on 30-10-2014 was a live broadcast about the LEGO PBC 1.
6. Music
I used the soundtrack from the movie "It's a bugs life " called "The flik machine".
7. Making of the LDR sensor (light dependent resistor) for LEGO

Visit this page for more information.
7. Pictures