Description
Always wanted that WOW-factor for your company? If it's a bar, a company logo display, a statue, a picture frame or whatever you can come up with. Add some custom style and awesomeness to it. It's now all possible with the custom RGB LED systems from PV-Productions!
Choose the length you want, specific colors, modes and extras. Everything is possible!  You ask, we deliver!
These customized features will be added next to the standard light modes.
Awesome light effects – Unlimited custom modes – Amazingly bright – Easy operation & userfriendly – Build-in memory – Full dim functionality – LEDstrip IP67 Waterproof – Optionally DMX inputs – Optionally motion triggered, time triggered, remote control – and more
So what are the advantages compared to normal RGB LEDstrip systems?
Short answer on that: A lot! The advantage over already existing kind of systems is that it is fully adaptable to your own requirements.
Our LEDs can be controlled individually which means all LEDs can have a different color at the same time. Because of this, awesome light effects are possible! (All other LEDstrips will give all LEDs the same color)
Unlimited custom modes possible (Custom unique programs which fit your company layout etc.). Make e.g. awesome light effects in your company layout colors.
Adaptable to your own requirements. Make it e.g. motion triggered, time triggered, remote control or/and even smartphone compatible (Bluetooth/Internet connection) etc.
Advanced custom control panel.
Build-in memory will save mode and colors when powered off and on again. (All other LEDstrips will reset at reboot and you will have to set the color again every single time!)
And much more…
See also our brochure: Brochure PV-Productions Custom RGB LED systems v2
2. Some ideas
Watch also the video below to get an idea of some lightmodes. More different custom modes are always possible!
3. Finished projects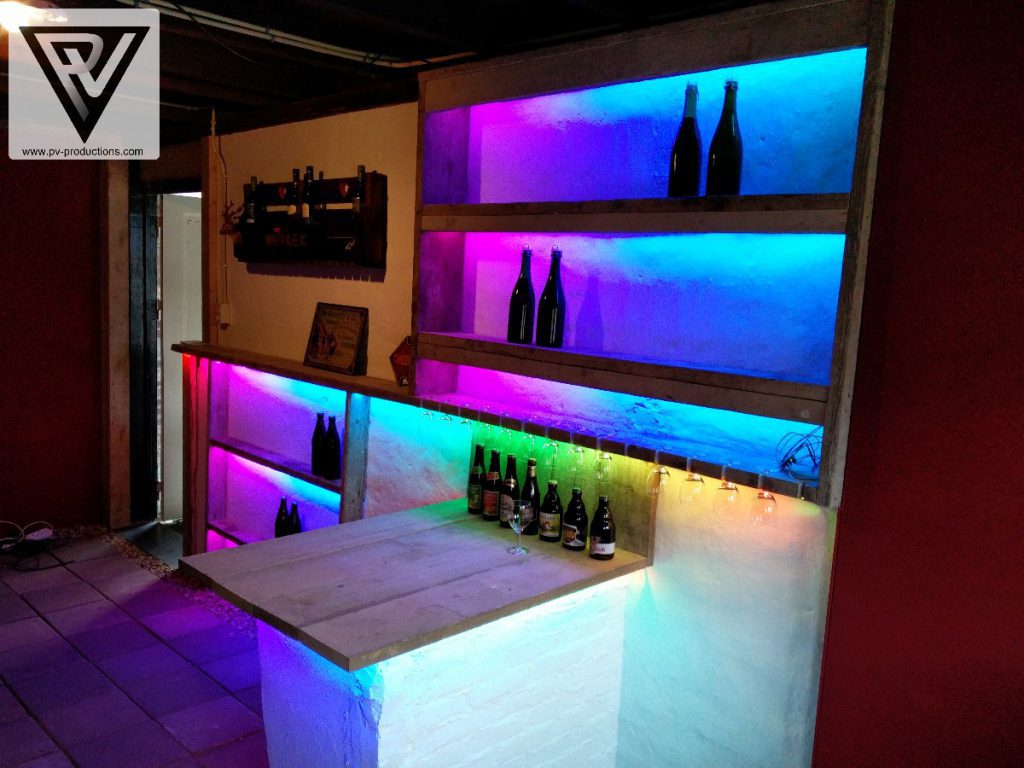 4. Interesse? Neem contact met ons op (Dutch)

Wanneer u ook interesse heeft in een op maat gemaakt lichtsysteem dan kunt u contact opnemen met info@pv-productions.com of het contactformulier op de contactpagina invullen. Wij beantwoorden graag uw vragen. Vraag vrijblijvend een offerte aan.