Product Description

1. Why
Why are most of the ledstips nowadays so limited in their functions? Everyone should be able to add awesome lighteffects to their creations. Because we believe more should be possible with RGB LEDstrips we developed a new unique driver for it.
So what are the big main advantages compared to other RGB LEDstrips?
Short answer on that: A lot!
– It works on a low and safe 5 volts and can be powered over every USB plug. This has the advantage that it is portable and universall, just connect a smartphone USB powerbank to it. (All other LEDstrips work on 12 volt and need a wall power adapter!)
– Build-in memory will save mode and colors when powered on again. (All other LEDstrips will reset at reboot and you will have to set the color again every single time!)
– Extreme precision due to the Rotary encoder used for this driver.
– And much more…
Amazingly bright – Easy operation & userfriendly – For Build-in purposes – Control color & brightness – USB compatible – Low energy consumption – LEDstrip IP67 Waterproof – Portable – Build-in memory – and more…
But don't take our word for it, watch the video below and try it out yourself!
 Light up your projects
2. Info
Special with this driver is the use of a rotary encoder with integrated tact switch. This feature makes all kinds of new user interfaces possible. The other great advantage is the precision in which you can control the RGB LEDs.
The custom driver includes 2 modes. Mode 1 is where you can set the color. When pressing the tact switch in the rotary encoder you will go to mode 2 where you can set the brightness level of the RGB LEDs. When pressing the tact switch for 2 seconds, the LEDs will fade out in a nice animation. Pressing it again will bring you back where you left it. Build-in memory will store the color and the brightness level when powered off.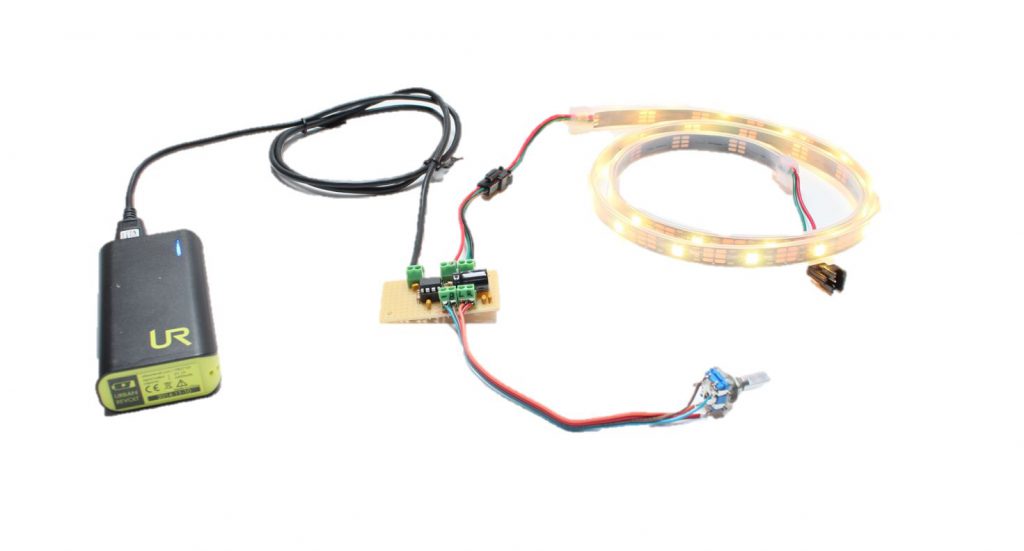 3. Projects with the RGB LEDstrip-driver PV-P2