Product Description
It has never been easier to build a complete LEGO Great Ball Contraption (GBC) loop yourself! This GBC is entirely built using only parts from the LEGO Technic Crawler Crane 42042 set and uses 95% of all the pieces that come with it. Also to be referred to as model D of the 42042 Crawler Crane. This module makes sure you master the LEGO GBC building techniques and tricks so that you eventually also can build your own GBC. The whole machine is powered by one LEGO motor which comes with the LEGO 42042 Set.
This GBC works great with our LEGO GBC balls.
The loop starts at the Horizontal Mover Module which takes one ball at a time and then turns them over 180 degrees to drop them into the next module. To make this work we designed a really effective return/pauze mechanism which automatically changes the direction of the Horizontal beam. The next module is the Conveyor Belt Module which brings the balls up to the Flip Flop Module. This module separates the balls equally over 2 bins. When a bin is filled up to 8 balls it will automatically empty itself and release the balls back into the loop.
The balls then go into the Ferris Wheel Module which is fully mechanical automated. The ferris wheel has 4 cabins each holding 1 ball. The timings mechanisms, which releases one ball in one cabin, uses a specific gear ratios to get the timing right every time. The timing of entering balls into the cabins comes quite precise but when you have the timing just correctly everything works like a charm. After 3/4 of a revolution on the wheel the balls drop of and continue the loop by starting at the begin point again.
Batteries can easily be replaced. If you are out of batteries you can also power the whole GBC manually by turning the yellow handle.
NOTE: You may not reupload the building instructions.
LEGO GBC Balls
The LEGO GBC Balls are available HERE.
LEGO GBC 10 all over the world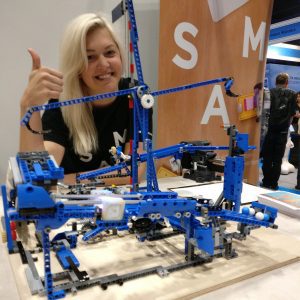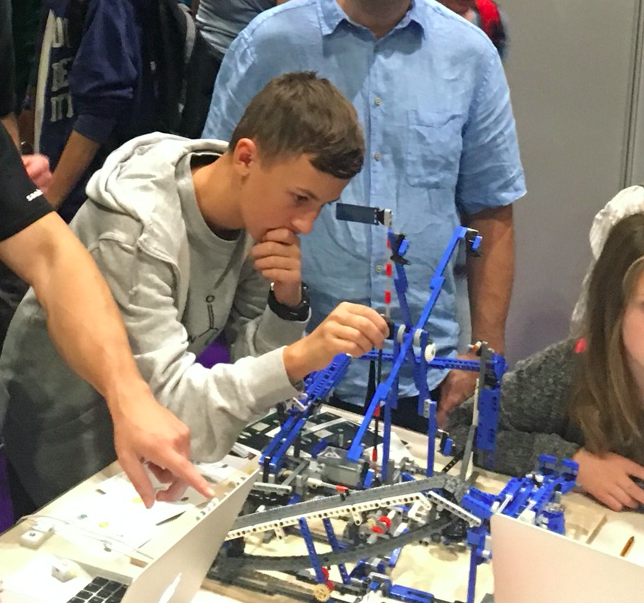 Did you also built one of our LEGO GBCs yourself, with your friends or family? We would love to see and share it! Send us a picture or video at info@pv-productions.com or via our social media channels.
This GBC is in collaboration with SAM Labs Electronics.
Want to add cool electronics to this GBC? We used SAM to sort out different color balls.
See the SAM version of LEGO GBC 10 here.
SAM Labs blurb:
SAM LABS Electronics is a library of smart electronics modules connected to the Internet of Things. SAMs, as the modules are called, consist out of sliders, buttons, motors, lights and much more. Getting interested? See also more awesomeness at their website.