Description
Love Pneumatics, Automation and Action?
Then this GBC is definitely for you!
It has never been easier to build a complete LEGO Great Ball Contraption (GBC) loop yourself! This GBC is entirely built using only parts from the LEGO Mercedes-Benz Arocs Truck and uses 90% of all the pieces that come with it. Also to be referred to as model C of the 42043 Mercedes-Benz Arocs 3245. This module makes sure you master the LEGO GBC building techniques and tricks so that you eventually also can build your own GBC. The whole machine is powered by one LEGO motor which comes with the LEGO 42043 Set.
This GBC works great with our LEGO GBC balls.
The LEGO GBC 9 features 4 GBC modules which all work together to make a full loop so the ball flow will never end. However, it is possible to separate the modules and make your own unique configuration of combine with all our other LEGO GBCs!
Because this GBC is so big and all the modules are faced outwards you really have to walk around it to see and understand how everything smoothly works together. Great fun to build and a lot of WOW moments as you will learn how pneumatics, gearing, forces, mechanics and so much other cool contraptions work. This GBC really makes you think outside the box as you use the pneumatics, valves, springs in a whole new way so that in the end you have a full automated ball factory running on only one simple LEGO motor (included in the 42043 set).
The pneumatic full mechanical automated Crane Arm Module really steal the show. With timing mechanisms, gearing, controlled valves and pressure springs the crane completely works on it's own, and believe us, it's awesome to watch. The crane arm triggers the timings mechanism and fills up his bucket when the arm is in the lower position. Then the whole module will rotate 90 degrees by some clever levers and the whole crane arm raises via a slope. There the balls are released so they can move on to the Shooter Module.
The Shooter Module has it's own unique filling mechanism. By adjusting the catch tray height and angle, the shooter module never misses a shot! Followed up by a Zigzag Module, the balls are blocked by the next timings mechanism waiting for the Tilt Lift Module to pick them up and taking them up to a higher level to re-run the whole loop again. All the timings mechanism are well explained and easy to assemble yourself.
Batteries can easily be replaced. Just slide the battery box in and out.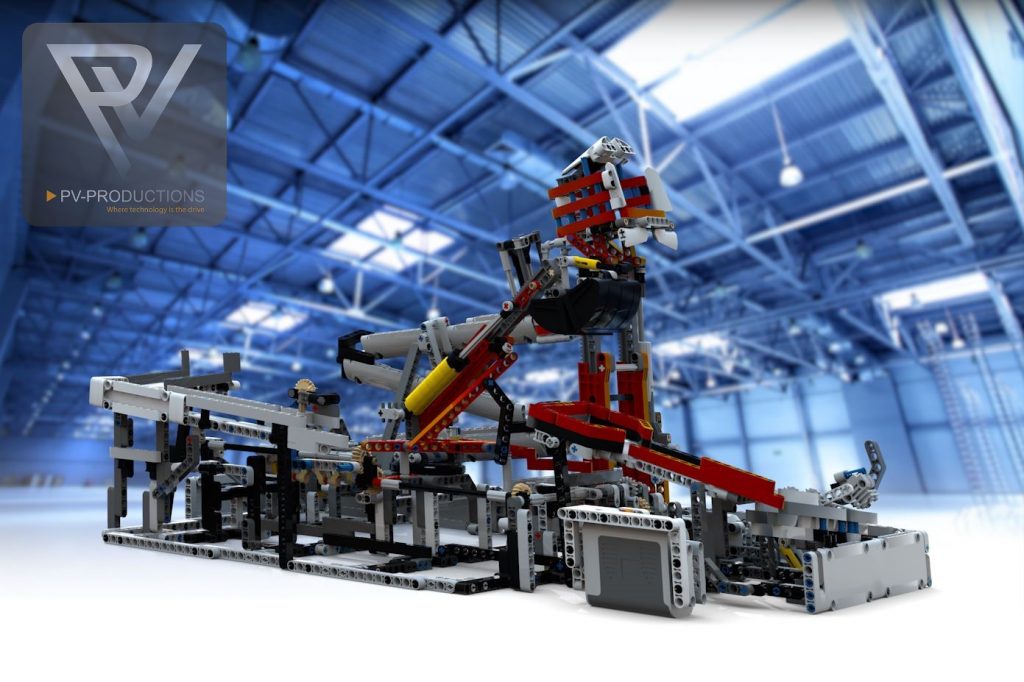 LEGO GBC Balls
The LEGO GBC Balls are available HERE.
Change log latest update
v2: We included the length numbers for axles, beams and other parts. A high requested feature which is really usefull while building. We also made some other small changes. The building steps remain the same. Axle length on page 116 changed from 7 to 8. Make sure to get this update.
This GBC is in collaboration with the BrickWorksAcademy.
Their blurb:
Ready for the BEST technology summer camp ever! Join us as we build, explore, learn and play with the most engaging learning platforms on the planet! LEGO Robotics, LEGO Castle Builders, Minecraft Computer Camp, Pokemon Designer and LEGO Stop Motion Animation camps, Star Wars Fan camp are just a few of our award winning camps!